The Burning Road
by Ann Benson
Delacorte Press
1999
Historical Fantasy
I.L. 11th and up
467 pages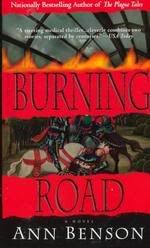 ---
I.
Synopsis-
The year is 2007 and there has already been a large plague that has hit the entire world. People are still recovering from the effects of it. Janie lost her license shortly after the plague for illegal activities she did in London to try to cure the plague. Because of these activities, her friend Caroline lost a toe from the plague as well as both of them meeting "the men of their lives", Michael and Bruce. Michael could come to the US because he is a biocop but Bruce's visa wouldn't go through because of the activities that he participated in. Janie has a book that she acquired while in London written by a Spanish Jewish man named Alejandro Canches. She is intrigued by this man although she can't understand much of the journal for it is written in English, French and Hebrew. Upon the horizon another threat of the plague is coming as well as a case of a young boy's whose neck was shattered just from a simple collision in soccer. She has to go through many illegal activities to get to the means and find out what happens and she does while falling in love with her close friend and lawyer, Tom. In 1358, Alejandro is trying to live a peaceful life with his "daughter", Kate. She is the illegitimate daughter of King Edward of England. She survived through the plague thanks to Alejandro as he is a healer. Now they are caught in a rebellion in France against the current king. Alejandro is kidnapped by his one-time mentor while Kate falls in love with her guardian, Kale, who is the main leader of the rebellion. They get married after they free Alejandro and they make a small army in the countryside. Kate finds out that she is pregnant with Kale's child but keeps it from him for she doesn't want to distract him.
II.
Evaluation of Work as Literature
-Authenticity-
This book is very believable as the author has taken great pains to research 14th century France. There are many historical people in there, such as a young Geoffrey Chaucer. One can believe that this has happened and the stuff in the modern future can happen.
III.
Personal Comments-
It was a good book, but I don't see how this is a young adult book as there are some descriptions of sex in there which were unnecessary in some cases. It was retarded. They could have done without those and merely implied them and it would have meant the same thing.