If You Come Softly
by Jacqueline Woodson
Speak
1998
Romance
I.L. 7th and up
181 pages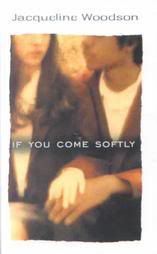 ---
I.
Synopsis-
Jeremiah, or Miah, is the son of the famous actor, Norman Roselind, and the famous author, Neila Roselind. They are in the middle of getting a divorce because Jeremiah's dad had an affair with a woman, so he moved across the street to live with her. Miah is black. Because of his dad, he starts going to Percy Academy, a prep school where the population is mostly white. No one really seems to notice him all that much, for they do live in New York where different cultures are continually in contact with each other. Elisha, or Ellie, is a young girl from a Jewish home. She is the youngest of the family and she is the only child left at home. Even though her family is Jewish, they aren't very Orthodox and don't usually go to the Temple. This is also her first year at Percy and on the first day, she runs, literally, into Miah. He helps her pick up all her books, introduces himself, and then walks away. She can't stop thinking about him, nor can he stop thinking about her. He tells his mother, but she doesn't share anything with her family, except for her older sister, Anne, who gets upset with Ellie because Miah is black. They skip a class and go to a park. This is where they share their first kiss, and this is where they first realize that they like each other.
II.
Evaluation of Work as Literature
-Style-
The way that this book was done was great. It didn't seem to favor blacks or white, but rather it stayed in the middle and said "Can't we just get along?" It is a love story and many things prove that (such as Miah and Ellie obsessing over each other) but at the same time, it's a social book as well. It shows the difficulties that interracial couples have to go through. Woodson does a great job of showing these difficulties but at the same time manages to keep Miah and Ellie in their age range.
V.
Personal Comments-
I loved this book because it was a love story that wasn't your typical love story. They weren't going around and having sex nor were they sweet and innocent. They understood that people were looking at them different because they were of different races.